The 2021 Subaru Love Promise Customer and Community Commitment Award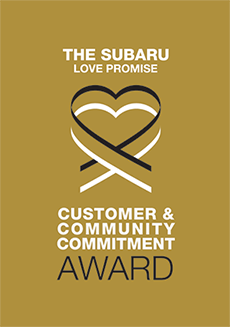 We've been nationally recognized for our dedication to our customers, our community, and the Subaru Love Promise.
We're honored to receive the 2021 Subaru Love Promise Customer and Community Commitment Award. This award nationally recognizes elite Subaru retailers who provide an exceptional customer experience at every interaction with Subaru. These retailers have also demonstrated an outstanding commitment to supporting passions and causes in their local communities in important areas such as the environment, community, health, education, and pets.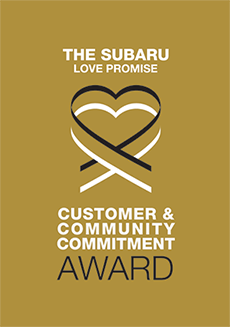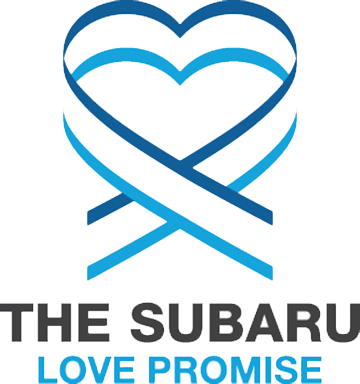 What is the Subaru Love Promise?
Subaru and our retailers believe in making the world a better place and the Subaru Love Promise is our vision of respecting all people. This is our commitment to show love and respect to our customers and to work to make a positive impact in the world.
How is McCurley Integrity Subaru dedicated locally to the Love Promise?
McCurley Integrity Subaru has always strived to be your community partner. Our Love Promise is the result of various partnerships with local charities and non-profits within this great community. We're always grateful for the opportunity to be involved and not only to be a part of your community, but to always do serve it as well.
Richland Kennel Club, Pet Overpopulation Prevention Tri-Cities
The Badger Mountain Challenge, Tri-Cities Young Life Park Clean Up Event, National Park Foundation, Inter-Mountain Alpine Club
Pasco School District, Columbia Basin College Athletics, Communities In Schools, Kennewick High School, Amistad Elementary School
Make A Wish Washington, Octoberfest Food Bank Food Drive, Alzheimer's Association, The Arc of Tri-Cities, Elijah Family Homes, Rascal Rodeo, Boys and Girls Club, Second Harvest, Make A Wish of Washington and Alaska, TROT Therapeutic Riding
Meals on Wheels, American Red Cross, Safe Harbor Crisis Nursery, Katy Straalsund Domestic Violence Foundation, Tri-Cities Cancer Center, Team Up For T1D Kids
Love Promise Stories from McCurley Integrity Subaru
Subaru and McCurley Integrity Subaru believe in making a positive impact on the communities in which we live and work. We uphold that belief through our Love Promise Community Commitment. Every month, we select inspiring stories from customers and partners from around our area who strive to support our collective commitment and feature them here
All In For Kids with CISBF - Joely N
For the 4th year running, McCurley Integrity Subaru stepped up as the presenting sponsor for the Communities In Schools of Benton-Franklin's annual Spring Into Action Breakfast. Never has this support been more critical than in the aftermath of a global pandemic. While COVID-19 may have prevented us from gathering in person, McCurley once again led the charge to surround our students in a community of support empowering them to stay in school and achieve in life. Strong community partnerships open up a world of possibilities for our youth and the ongoing commitment McCurley Integrity Subaru has made to CISBF allows school-based staff in 34 schools to walk alongside students every day to ensure they have the tools necessary to rise above their circumstance and write their own success story. We are so grateful to McCurley for their investment in our youth and look forward to another amazing year of partnership!
---
Rascal Rodeo - Ann-Erica W
Two years ago McCurley Integrity Subaru here in Pasco, WA partnered with Rascal Rodeo (RR). A 501c3 that travels throughout the Pacific Northwest and into Las Vegas producing free events for anyone with special needs of all ages. The demand of support is a great need. John Inman and his team have donated financially and volunteered their time at our events. Our events were created to provide an opportunity for special needs to be cowboys and cowgirls but it's more than that. It's changing lives of participants, their families and volunteers. Some saying their first word at 30 years old after taking a horseback ride. Tears of joy from parents because they haven't seen their cowboy/girl smile in 3 months until attending our rodeo. Volunteers changing their profession to work with our participants full time. Parents and care providers seeing their child of any age be the stars of the show when usually told no and sitting on the sidelines. We can only do it because of support like Subaru's. RR was started as a high school senior project for our Founder, Ann-Erica Whitemarsh. 2020 is our 10th year anniversary and we had 20 rodeos scheduled in celebration and reaching thousands of participants, families and volunteers. All but two have been canceled. We appreciate each of our sponsors who invest and believe in our program but John has gone above and beyond others. With John's experience and willingness to share ideas it has helped RR grow the last couple years and set goals for the future. Ann-Erica sees him as a mentor and greatly appreciates his support outside of cash sponsorship and time at rodeos. He is truly invested in our program and whole community. A nonprofit like ours needs to be run like a business and there is no better help than what John has provided. We are grateful for McCurley Integrity Subaru, especially John and his heart and commitment to helping make our town a better place.
---
Walk to End Alzheimer's - Erica G
Thank you, McCurley Integrity Subaru. Your significant and continued partnership with the Tri-Cities Walk to End Alzheimer's supports those in our region who are impacted by Alzheimer's disease and other dementias. McCurley Integrity Subaru's involvement in the Tri-Cities Walk to End Alzheimer's began with Victoria McCurley's service as a committee volunteer which helped to bring this event to the Tri-Cities; and it continues today, through McCurley's Platinum level sponsorship of the 2020 Tri-Cities Walk to End Alzheimer's. Alzheimer's disease is the third leading cause of death in Washington State, and one in three seniors in the Tri-Cities area, and state-wide, will die with some form of dementia. Thanks to generous community partners such as McCurley Integrity Subaru, those affected by Alzheimer's disease in the Tri-Cities region receive resources, care consultation, access to support groups, and education to help them navigate through their journey with this devastating disease. Those in the early stages of Alzheimer's often feel afraid, or isolated. Here in the Tri-Cities region, programs such as our "Staying Connected" series provide a safe place for people living with dementia and their care partners to ask the hard questions, and to connect with others who are on this difficult journey. Additionally, we have held monthly dementia education seminars on communications, behaviors, and legal and financial concerns, to name just a few. Tri-Cities residents receive these services for free: This would not be possible without ongoing financial support through sponsorships, grants, and individual donors. McCurley Integrity Subaru is making an important impact to improve the lives of Tri-Cities residents through your support of the Tri-Cities Walk to End Alzheimer's. COVID-19 has caused even greater hardship for anyone who is affected by dementia; and McCurley Integrity Subaru's continued support is more important than ever. We are grateful that McCurley Integrity Subaru stands with us in this fight, even in the most difficult economic times. Thank you to McCurley Integrity Subaru. Together, we are leading the way to Alzheimer's first survivor. THANK YOU!
---
McCurley's and Scouts Do Automotive Maintenance - Brett B
McCurley's Integrity Subaru signed on to be the official local sponsor of the Automotive Maintenance Merit Badge for Scouts interested in learning more about the proper care and maintenance of cars and trucks. As part of this sponsorship, trained McCurley's technicians dedicated their time and expertise on two consecutive Saturdays in October of 2019 to help these Scouts become familiar and sufficiently proficient to earn their Automotive Maintenance Merit Badge. These Scouts learned important skills to not only keep themselves and their families safe on the road, but with McCurley's help, these Scouts were able to expand upon their interest in automotive technology, auto mechanics, auto sales, and other careers related to the automotive industry. Thank you McCurley's for making a difference for our youth and future leaders!
---
Feeding Hope: McKenzie's Story - Emily F
Second Harvest is grateful for McCurley Subaru's support during a time when many more people are struggling to put food on the table—often for the first time. As people face unemployment and other financial hardships in the wake of the COVID-19 pandemic, partners like McCurley Subaru help ensure that people in their community have somewhere to turn for help. Your support helps local food pantries keep their doors open and fuels Second Harvest's Mobile Market to bring food directly to people who need it—people like McKenzie in Kennewick. "We are in the 'in between' category for food benefits. We don't qualify for state assistance but could really use it," said McKenzie. McKenzie has turned to Mobile Market free food distributions in the area to make sure her family has the food they need during the COVID-19 crisis. "The Mobile Markets have been absolutely amazing. My family has benefited from them so much. We are often given more than we could use and pass it along to people that need extra goods." Mobile Market distributions not only provide her with healthy food but also peace of mind. "I try hard to not take my children into stores during this uncertain time. The Mobile Market is fantastic in not requiring close contact with others, and we know the goods have been handled by people with PPE on." "I hope they continue to do Mobile Markets. I have spread the word to others about them, and they have benefited also," said McKenzie. "Food helps spread love." Thank you, McCurley Subaru, for helping to spread love to people facing hunger during the COVID-19 crisis! To see a local Mobile Market distribution in action, you can view the Tri-Cities Herald's video coverage of a recent event here: https://www.tri-cityherald.com/news/local/article242355831.html
---
Therapeutic Riding of Tri-Cities - Cynthia M
Our animal-assisted therapies and activities at Therapeutic Riding of Tri-Cities (TROT) provides services to those with physical, mental and/or emotional challenges. Our volunteers are the backbone that help make these horse riding classes safe and fun. McCurley Integrity Subaru was our 2020 T-Shirt sponsor and our first Share the Love experience. The volunteers wear their T-shirts proudly and they help to identify to the families and the riders/students who their helpers are they can befriend and depend upon. Despite the changes that were necessary to make this past spring with the Covid precautions, we were able to safely execute our mission and keep the therapy services moving around the arena. The support not only provided the T-shirts needed but it helped build up our Marty Lacy Scholarship Fund to be able to sponsor families so they can participate in our programs, i.e. Adaptive Riding, Path to Success, Hippotherapy, Dog Training. The steady growth over the last five years has lead us closer to our dream of someday having our own covered arena were we can provide services year round instead of seasonal. The new move starting this September is the first step towards that goal. We've outgrown our Pasco home at Cam Stables and are moving to our new facility at the Conner Corral in Kennewick. We are excited about our expansion and potential the new ranch will allow. Giddy-Up on down the trail and come visit us the Sept. 12th for our 'Open Ranch" at 104 E. 41st. Place. Kennewick.for a yellow ribbon cutting.
---
FCA Night of Champions - Zenon T
McCurley Integrity Subaru is a major sponsor of our "Night of Champions" Spring Fundraiser since 2018. By helping to underwrite the cost of the event we are able to maximize supporter dollars and put on a top-notch event allowing us to highlight the ministry and raise funds to support on-campus efforts and send local kids to summer camp.This year's event went from in-person to virtual in a matter of days, McCurley's commitment to remain a sponsor was critical to the success of the event. During the event, we heard from student-athletes at Richland, Kamiakin, and Chiawana on how they have grown their faith and student leadership thru FCA and in turn are leading students around them. We were also able to have fromer UW and NFL quarterback Brock Huard join us via Zoom, to recount the importance of faith, fellowship and accountability in his own life. Students these days are more disconnected and isolated than ever, FCA provides a place for authentic relationship and growth in their faith paired with the sports they are passionate about. Local group participation has grown from 9 schools in 2016 to 19 in 2019! Weekly participation (pre-COVID) was estimated at close to 800 students! This means students are finding a place to belong and grow at a crucial time in their lives. This coming year will have distance-learning challenges, but through the strength of relationships, we are excited to meet those challenges along with our community partners. For more info on FCA go to www.tricitieswafca.org
---
McCurley Subaru Springs into Action with CISBF - Tommy H
Once again, our local Subaru dealership, McCurley Integrity Subaru, stepped up to support Communities in Schools of Benton-Franklin to surround students with a community of support, empowering them to stay in school and achieve in life. For the last three years, we have hosted our Spring Into Action breakfast fundraiser which provides us an opportunity to highlight our work, challenges, and more importantly student's success. Each year, McCurley Subaru has stepped up to the plate to ensure we successfully achieved our goal. This year was no different. This Spring, we faced a new and unexpected challenge, COVID-19. A little more than a month prior to our annual breakfast, we pivoted from an in-person event to a new virtual event. Throughout the process, Subaru was instrumental to ensure our event had every chance and opportunity to be successful. Not only was McCurley Subaru financially supportive of our event, Subaru assisted us with video editing and publishing of content which was valuable to us in order to share with our community. With such a short turn around and limited resources, Subaru provided both TV and radio spots in English and Spanish, in conjunction with 2ndHarvest, to market and promote our event. In addition, they were able to connect us to several contacts within other media outlets for additional resources. Overall, Subaru was paramount in ensuring our success by providing in-kind and financial support within a short turnaround timeframe. Our partnership with Subaru and McCurley Subaru is what lead to our successful virtual campaign during such challenging times for students and families most impacted by COVID-19 and school building closures. Communities in Schools of Benton-Franklin loves Subaru!
---
Subaru and the Inter-Mountain Alpine Club - James D
The Inter-Mountain Alpine Club has existed in the Tri-Cities community for over 70 years. In that time we have at times been focused on hiking, climbing, snow sports; but we have always had connecting this community with the outdoors at our center. In recent years we have focused especially on education and outreach. We have a backpacking school and a mountaineering school which run once a year and are free with some small gear fees to the public. In addition we have helped, along with REI and community partners like Dean Olin( The Rock Climbing Guide) and Tri-City Court Club, bring The Reel Rock Film Festival to the area. It is a big production to put on and we had all dreamed of bringing more events like this to Tri-Cities which center around the outdoors and some of the incredible folks in our community. This year we reached out to McCurley Subaru to see if they too would like to pursue this aim, and found our goals aligned. With their kind support we will undoubtedly be able to bring more events to the Tri-Cities in the future and get more folks inspired to make the most of the wild we so love.
---
Mid-Columbia Meals On Wheels Check Presentation - Justin H
A check for $30,806.00 was presented to Senior Life Resources on March 11th. Kristi Thien, Director of Mid-Columbia Meals on Wheels, accepted the check on behalf of the organization. We were able to share some of the highlights of this partnership over the past years. From November 14, 2019, to January 2, 2020, customers who purchased or leased a new Subaru vehicle selected from a list of charities to receive a donation of $250 from SOA and a matching donation from McCurley Integrity Subaru. For the fourth year in a row, there was no cap on the total donation from Subaru of America to its Share the Love charitable partners. At the culmination of this year, SOA and its retailers hope to exceed a grand total of $170 million donated since the creation of the Share the Love Event to celebrate the twelfth anniversary of the event.
---
Meals on Wheels Mock Delivery Challenge - Kristi T
Although we only get the opportunity to work with our local Subaru dealership, McCurley Integrity Subaru, we are convinced that they must assuredly be the best dealership, with the best staff, in the country! As we prepared for the 2019 Share the Love Event, we wanted to help McCurley Integrity Subaru staff really connect to our mission and our service. Each year, the sales staff graciously helps deliver warm, nutritious meals to home bound seniors, and this year we were hoping to offer them a fun event that would really encourage them to engage with our seniors. We set up mock meal deliveries in the parking lot of McCurley Integrity Subaru. McCurley staff were prepped with information about what we accomplish: providing vital meal delivery service to a vulnerable population of local seniors. They were then provided with mock instructions for prepping the meal trays, delivery instructions, and details about what each client should receive. Our Mid-Columbia Meals on Wheels staff then stationed themselves throughout the dealership parking lot and acted as clients in need of meal service. McCurley staff pushed meal carts throughout the parking lot on the coldest and foggiest day of the month as they learned some of the challenges of serving seniors. We encouraged McCurley staff to engage with the meal recipients to get to know them a bit and to understand that although the meal itself is important, the connection to the "outside world" is vital to the continued independence of the seniors. We had a great time getting to know our McCurley Integrity Subaru sales staff better (although many of them have been participating in the Subaru Share the Love Event for many years) and seeing the friendly competition take place. We believe that everyone was a winner at this fun kickoff event. Thank you again to McCurley Integrity Subaru and Subaru of America for your sponsorship of the Share the Love Event!
---
Partnering with Therapeutic Riding of Tri-Cities - McCurley S
TROT is another organization that makes our community great. Their mission is: "Therapeutic Riding of Tri-Cities (TROT) promotes physical, psychological and social well-being of people with special needs by providing animal-assisted therapies and activities." This nonprofit is doing great work with those that have developmental disabilities. They are located right here in Pasco. We are proud to support them by being their T-Shirt sponsor for 2020. Find out more: https://www.trot3cities.org/community-partners/
---
Mid-Columbia Meals On Wheels Makes A BIG Impact - Justin H
Once again Mid-Columbia Meals on Wheels is our Hometown Charity during the Subaru Share the Love Event. Through this program, over 20,000 meals have been delivered to home-bound people in the Tri-Cities and surrounding areas. We are honored to help provide resources and volunteer our time for deliveries. See the massive impact Mid-Columbia Meals on Wheels has on our community in this short video or learn more at seniorliferesources.org.
---
Nearly 1millon lbs in18 years, 2019 Octoberfest - Justin H
18th Annual Octoberfest Final Results Thank you! During our 18th Annual Octoberfest, the Tri-Cities and Walla Walla Communities were tremendously generous. Each year we work to raise donations and supplies and local food banks. The estimated total for the eighteen-year event is over 920,000 lbs of food. The event is every October because it allows our local food banks to stock-up for the high demand for the holidays. We have a lot of fun working with our local partner at Yoke's Fresh Market. Customers at Yoke's purchase and donate $5 and $10 food bags all month long. We also could make it happen without Coca-Cola Distributors of Pasco and their help in storing and moving food supplies, and our friends at Mustang Signs who create awesome promotional materials. Yoke's Fresh Market customers donated 46,960 lbs of food and dealership donations totaled 11,500 lbs. Add to this the $55,295 check donation presented by McCurley Dealerships and Yoke's Fresh Market Customers, and these donations will go a long way this holiday season. Ultimately none of it is possible without you, our community. Thanks to your generosity we were able to help raise over 58,460 lbs of food!
---
2019 Walk To End Alzheimer's - Justin H
On October 13th, 2019, McCurley Integrity Subaru joined the Tri-Cities community to support the efforts to find a cure for Alzheimer's. Many of our amazing employees and their families participated by walking for a cure. We love that the Tri-Cities community and our employees are so generous with their resources and time. Join us in our support of adding the first white flower, that represents the first person cured, to the garden.
---
OktoberFeast Horn - Kristi T
This fall, Mid-Columbia hosted our first ever OktoberFeast Fun Run as a fundraiser for our agency. Rather than a competitive athletic event, our run provided a scenic course along the river where serious runners could challenge themselves, while casual joggers and walkers could enjoy German snacks (German meatballs, apple pie squares, gummi bears) along the route. Following the actual fun run, we hosted a German sausage & root beer lunch along with a beer garden. Accordions played in the background, and a local radio station provided live coverage and other music. One of the highlights of the fun run was using our 50 Years/50 Cars Subaru Outback as the starting horn. We counted down from 10, and runners took off at the signal of our Subaru horn. The little added touch of using our beautiful car, typically used for rural meal route deliver, really contributed to the fun of the day! Thank you, Subaru, for providing this wonderful vehicle for our agency!
---
McCurley Helps Raise $55k for Local Food Banks - Evan B
McCurley Integrity Subaru and the entire McCurley organization partnered together with Yoke's Fresh Market to help raise over $55,000 and 60,000 lbs of food for local area Tri-City and Walla Walla food banks. This is the 18th consecutive year McCurley has lead the even, during which the total contributed food is almost an astonishing 1,000,000 pounds! We are excited to be joined with such great community partners and help so many who often experience a shortage during the winter months.
---
Subaru Kindness - Kristi T
We've just completed our 2018 Subaru Share the Love Event. Every year proves to be better than the one prior in terms of our relationship with our local dealer, McCurley Integrity Subaru. McCurley staff is incredibly kind and caring. During the Subaru Share the Love Event, McCurley staff chauffeur our volunteer drivers on their delivery routes to deliver meals to our homebound seniors. Our volunteers so enjoy riding in the beautiful Subaru's and spending time with the Subaru staff. And our clients are absolutely thrilled to meet new friends. I stopped by the McCurley Integrity Subaru dealership in December to thank the staff for all their efforts. I had picked up some donuts and cookies, and I had made a little sign with photos of their staff delivering meals. When I brought in the treats, McCurley staff were beyond gracious. They insisted that they enjoyed the deliveries more than our volunteers and clients could possibly have enjoyed meeting them. I think their selfless service to our community really speaks to the kind of employees our dealership provides.
---
17th Annual Octoberfest Sales Drive Results - Justin H
The 17th Annual Octoberfest Food Drive was a huge success. Our community made this event possible. Over $51,000 was used to purchase food plus another 58,000 lbs of food went out to local area Food Banks in the Tri-Cities, Walla Walla, and the surrounding areas! Of course, none of this would be possible without all the good work from the teams and volunteers at local Food Banks. We are projecting that over one million pounds of food will have been donated to those in need by our 20th Annual Event. We love this community! During the month of October a portion of every purchase went towards local Food Banks. Customers also brought non-perishable food items into our showrooms. On top of these donations, many community members purchased $5 and $10 food donation bags at local area Yoke's Fresh Markets. Thanks you to everyone who was involved.
---
Boxes of books delivered for Subaru Loves Learning - Evan B
As part of 'Subaru Loves Learning' event, McCurley Integrity Subaru staff dropped off hundreds of new books donated to help promote science education and the accessibility of learning to a few welcoming arms at Pasco School District. McCurley Integrity Subaru customers were able to participate in the event, that took place during the month of August, by including handwritten 'Subaru Loves Learning' bookmarks. Many new Subaru owners enjoyed writing encouraging words and phrases on these bookmarks and expressed excitement that many of our local students would be able to receive a new book and a personalized note from a community member promoting learning. Every year we see increased participation from our staff and our customers in helping events like these have a significant community impact and are excited about events to come.
---
Filling a Need - Kristi T
Thanks to the beautiful Subaru donated to Mid-Columbia Meals on Wheels by Subaru of America, we are able to support seniors who live in rural areas of our bi-county service area. In the past, the only meal service we could provide was take-out meals, which required the client to have a representative (themselves or a family member/friend) available to pick up meals at one our senior dining centers. Because we now have a car available to deliver to these remote locations, we offer a weekly delivery of meals directly to our clients' homes. Some of our newest recipients of these deliveries are a couple who have been struggling to access consistently nutritious meals. The husband had a stroke not long ago and was completely reliant on his wife to provide meals. Unfortunately, the wife has also experienced a recent health crisis: she's had surgery to have multiple toes amputated, and she is unable to be on her feet much at all. Our home delivered meals provide much needed consistent nutrition. In addition, the food deliveries offer a friendly visit/wellness check. In the past, the couples' only social contact was very limited so their social isolation has been reduced a bit. This service would not be possible if it weren't for the support of Subaru of America in providing a car for these rural routes. Thank you, Subaru!
---
McCurley Subaru loves to care for cancer patients - Shannon K
On July 11th the halls of the oncology department at Lourdes Hospital in Pasco, Washington buzzed with excited. The Leukemia & Lymphoma Society of Washington and Alaska was happy to team up with McCurley Subaru staff and Lourdes Hospital nurses to provide 100 hundred care packages including blankets, craft kits, and messages of hope to cancer patients. We hope these gifts will serve as a reminder to patients as they go through exhausting treatments that they are not alone and they have the love and support of their community. John Inman, the General Manager at McCurley Subaru, read a few messages of hope from their customers and staff members reminding everyone why we come together every year to continue the impact of the Subaru Loves to Care program. This moment was not only shared with the people attending that day, but thanks to local news stations, was also shared with the community with the following article and video coverage, http://keprtv.com/news/local/blankets-and-messages-of-hope-delivered-to-patients-fighting-cancer-at-lourdes.The Leukemia & Lymphoma Society is always searching for ways to connect with more people affected by blood cancers and we appreciated the opportunity to share more about our organization's mission to the public. This day was meaningful to so many people and we were honored to be a part of it. Thank you to McCurley Subaru for your donations, support, and time that made Subaru Loves to Care a huge success this year.
---
McCurley Subaru Loves to Care 2018 - Justin H
On July 11th, McCurley Integrity Subaru and Leukemia & Lymphoma Society donated over 100 blankets, craft kits, and messages of hope to Lourdes Health Hematology | Oncology department. Employees and customers joined in supporting local people affected by cancer. One young person wrote, "We Hope You!" This was just one of over one hundred hand written messages of Hope. It was very powerful to hear some of the messages that patients will be receiving over the next few months. Lourdes Health staff reiterated that the gifts and messages will go a long way towards encouraging patients going very tough times. The response and support given by local Subaru owners, enthusiasts, and employees proves that we are part of a unique and compassionate community. McCurley Subaru looks forward to continuing support of Lourdes Health Hematology | Oncology patients. See the video to hear more messages of Hope.
---
McCurley Partners to Promote Community in Schools - Evan B
There are few things more important than our community's next generation. McCurley Integrity Subaru and Community in Schools of Benton-Franklin partnered up to help the non-profit raise money, spread awareness, and put professional site coordinators in an increasing number of Tri-Cities schools in order to help advocate for the right community resources for each youths individual needs. The events success showcased the power of partnership in action.
---
Wheels Make Wishes Come True 2018 - Justin H
During the month of May a portion of each purchase at McCurley Integrity Subaru went towards granting wishes for local Make-A-Wish kids. In 2017 over $121,000 was raised for Make-A-Wish® Alaska & Washington. The check was presented at the 9th annual Corvettes on the Columbia on June 2nd. The McCurley organization and 3 Rivers Corvette Club were able to deliver a check for $138,834. All the proceeds go towards making local wishes come true through Make-A-Wish®. Thank you to everyone who supported McCurley Integrity Subaru and Corvettes on the Columbia in 2018.
---